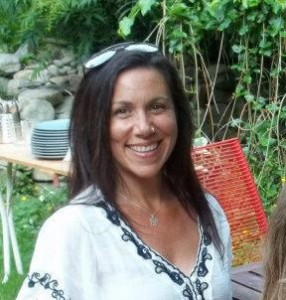 My History
I started my 20 year journey in bodywork in my native state of California in 1993. California is steeped in many kinds of bodywork forms, so exploring and learning was easy and accessible.
After seeking bodywork for a dance injury in my early 20's I was inspired to leave college to pursue a path as a body therapist. I earned my first certification as a Massage Practitioner in 1993 and enjoyed a successful mobile massage practice.  While living in California, I continued exploring bodywork and received additional certifications in both Reiki and Breema.
In 2003 I moved with my daughter and partner to Canada. It was in Vancouver that I met my first Thai Massage teacher and started my journey in this wonderful art.  From my first class I fell in total love for this deeply healing practice.
In 2005 I moved with my family to Nelson, BC where I have met so many wonderful people. The town is overflowing with those who have dedicated their lives to helping others as well as those that are on the journey towards their own well being. Being a part of this network has been inspiring. I have continued to study with many fine Thai Massage teachers across North America and Thailand, I am forever grateful for their skill and insights they have passed on to me.
In 2016 I received my 200 HR Heart Yoga Teacher Certificate with Karuna Erickson a gifted teacher in Nelson BC. The choice to add this teaching has enabled me to better serve my own body and to assist my clients to bring more alignment, stability and strength to their lives.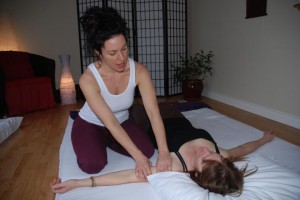 My Practice
Treatments are given with my full attention with love and compassion. The corner stone of deep healing starts with this intention. It is very important to me that everyone feels that my sessions are a safe and supportive space for healing to occur whether from a sports injury or emotional trauma.
I try to establish a good health history in our first session and to discuss how I might be able to help you. If at anytime I feel you would be served well by someone with skills different from mine, it is my practice to suggest their care. I understand that sometimes healing is a several prone approach and I have a wealth of professional contacts and referrals to help guide you when and if needed.
My touch ranges from gentle to firm and deep. Depending on the person and muscle mass, injury or issue we will create the massage that will best suit you. I have a nurturing nature and like to create a comfortable place for my clients to finally relax!  I have treated many conditions from frozen shoulder and sciatica as well supporting clients with inflammatory conditions like Crones and Fibromyalgia.
Even if it is your very first ever massage, please know you will be made as comfortable as possible. You are the boss! I welcome people of all ages and abilities. I have had many years experience working with people of disabilities including adult s and children with autism. My clients now range from age 7 to 87 so if you think your too old Im here to tell you that your not!
Therapy Dogs are always welcomed and no, I don't need to see a note from your doctor! You can read about my special dog Pepper here,  feel free to request her to be in your session, she loves to snuggle!
Lastly, I want to extend a loving invitation to anyone in the LGBTQ community that my practice is a safe place and you will always be welcome.
Blessings, Liz